Windborne Tales: Seven Stories by HAL CROOK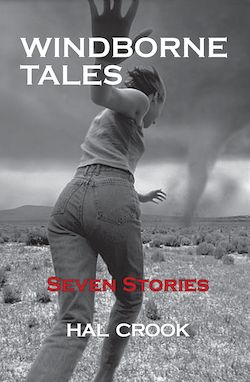 Author Hal Crook returns after his "masterful" psychological thriller–A Brief Madness: New Identify–with this "expertly crafted" collection of stories. In Windborne Tales you'll visit seven not-quite-fully-upright worlds, inhabited by hampered beings who haven't yet given up the quest.

Whether it's a widowed animal lover who says "Enough" to loss; a precocious teen who squares off with a cruel stepdad; a forgotten pianist who wreaks havoc in a psych ward; a sly reporter who deceives crafty old timers at their own game; or an unknown saxophonist recruited to save humanity–Crook infuses their predicaments with healthy doses of truth, challenge, humor and intrigue, the impact of which can be sage at times, or blistering.

Windborne Tales: Seven Stories is a "must read" collection that, as one reviewer writes, "unforgettably conveys what it means to be human."

ACCLAIM...

"This collection of stories is as easy to read as it is hard to put down. Each tale is highly creative, thought-provoking, entertaining, and unique. The writing style is acerbic and wry. Characters are depicted in gritty detail, representing the worst—and at times the best—of humanity. On display is raw reality, unexpected twists and turns, and believable endings impossible to foretell. In 'Incident at Ponderosa East', the depravities and curiosities of the characters are vividly brought to life, as are their hopes and dreams. Clever and eloquently worded. Brilliant storytelling." John Ferrara, Pianist/Author/Educator
"After a sterling debut novel—A Brief Madness: New Identity—Hal Crook has created this impressive collection of psychological gems. Part Bradbury, part Coben, part hipster, his combination of wit, quasi-memoir and off-beat imagination captured my attention at every turn, and held it. In 'Covid Serenade' especially, the author encapsulates his unique existential vision of the human condition." Paul Hoffman, LICSW/Therapist
"Hal Crook's stories get the pages turning by themselves. The characters are haunting creations. By the end of each tale, you feel you've gained a friend—and maybe an enemy! In any case, you're no longer alone. The writing stirs emotions you didn't know you had. In the story 'Windborne Tales', I found myself wondering: What if this happened to me?" Nancy McDaniel, Artist/Accountant
"Each one of these unforgettable tales conveys what it means to be human. In 'All That Comes Our Way', the author brought me back to my childhood, vividly capturing not only how difficult it is to grow up, but how precious that experience is. And while reading 'Adventures in Jazz', I felt like I was part of the band, hanging out with Blue and his bandmates as they dealt with the stress of the tour and the challenges of living on the road. Constantly facing choices that pit the individuals' artistic goals against the success of the group." Mark Esposito, Insurance Executive
"I reveled in this collection of tales, in which the novelist/jazz musician Hal Crook delves deftly into a broad spectrum of themes, gifting the reader with not just seven stories, but seven experiences—each one revealing a bit of the author's unique take on human nature, humor and humanity. And you'll never guess who the small brains are in 'Big Brains in Our Midst!'" Jason Camelio, Global Education Professional
"Windborne Tales: Seven Stories is a must-read collection by novelist Hal Crook. These tales are full of likable and loathsome characters, and packed with delicious jazz references and a native son's take on Rhode Island. In 'Out With a Bang', readers experience the vagaries of life, love, loss and revenge, as though living through them ourselves. Top shelf, well crafted writing." Greg Wardson, Pianist/Educator
 
---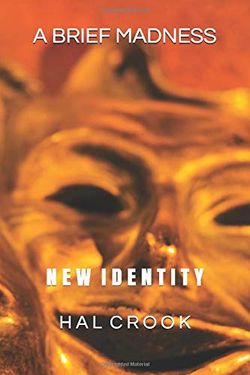 My novel, A BRIEF MADNESS: NEW IDENTITY, is a high-voltage psychological thriller that shines the light on social and racial injustice, vigilante violence, sexual assault, human trafficking, and—more philosophically—the illusory nature of the self and how it impacts our attitudes toward good and evil.

The time is the recent global recession, when government cutbacks have squeezed law enforcement's power to protect and serve, and one family pays the price for it in blood.

The setting encompasses the mean streets of South Providence, Rhode Island, the pristine coast and backwoods of Little Rhody's South County, and the smallest state's largest landfill.

African-American botanist Agnes Hampton finds her pacifist nature challenged when her husband is murdered in their home and the lives of her daughter and grandchildren are threatened by a ruthless serial predator. When an opportunity arises to strike him down, her maternal instincts trump her moral values, transforming her into "a defender—not a murderer." Agnes must now reconcile her new identity and defeat an even shrewder nemesis—a disfigured opera-loving savant—quickly and quietly, or she herself may fall prey to the law, or risk becoming a victim in a murderous rampage.

A BRIEF MADNESS: NEW IDENTITY shares elements with such best-sellers as The Silence of the Lambs by Thomas Harris (brilliant female protagonist pursues serial predator), Death Wish by Brian Garfield (vigilante justice), and A Time to Kill by John Grisham (racial bias, revenge), but also fills a unique niche in the marketplace by questioning the assumption that higher consciousness and criminality are mutually exclusive, and by exploring the diverse locales and cultural quirkiness of Rhode Island.

ACCLAIM...
"This novel has a lot going for it. Both action and character nuance. The reader wants to know what will happen next, and what will happen to the characters. Agnes is a flawed, multidimensional heroine, whose actions give a moral ambiguity that deepens the novel's message. The jazz references and South Providence as a setting are rich and inviting. Some of Fleck's repartee with other characters is priceless." Betty J. Cotter, Novelist/Writing Instructor
"Great characters and story. Female African-American hero is smart and strong. Feels a bit like Walter Mosely. Quality writing with humor and grit." Robert Nieske, Bassist/Educator
"Vivid! Intense! I could not put A Brief Madness down." Bill Jones, Saxophonist/Educator
"A suspenseful story, with interesting characters and at times hilarious dialogue." Tom Gonnella, Attorney/Guitarist
"The author expertly weaves history, intrigue, politics and humor throughout… Impossible to put down." Julian Shore, Pianist/Educator
"A truly compelling work of classic crime fiction." Florian Feuser, Bassist
"Unpredictable. Unique. Daring. Authentic. And entertaining." Phil Mazza, Guitarist/Educator
"It's a whopper of a thriller. I couldn't put it down. And at 95 years of age, I can't wait too much longer for a sequel!" Peggy Smith, Bookkeeper
"Terrific debut novel. Certainly in the upper echelon of crime fiction I've read in recent years." Paul Hoffman, LICSW/Therapist
"Intriguing story! I didn't want it to end." David Marr, Master Furniture Builder
"Characters are multidimensional and well developed…dark and disturbing antagonist, strong and persistent protagonist…balanced with humor and setting." Mark Esposito, Insurance Executive
"Expertly crafted first novel…a brutal and unforgiving trip through the changing nature of crime and punishment. A masterful achievement." MJS
"A thoughtful, engaging and convincing work of fiction…a genuine page turner." John Ferrara, Pianist/Author/Educator
"Fasten your seat belt and get ready for a thrill ride!" Gene Roma, Percussionist/Educator
"Intense, thrilling, creative. A masterful first novel." Jason Camelio, Global Education Professional
"Great story. I couldn't put it down." Al Cron, Trombonist/Educator
"Perfect mixture of humor, compassion, suspense and terror. Kept me turning pages till 3 a.m." Nancy McDaniel, Artist/Accountant
"Exciting, well-written novel. Great characters and a roller coaster plot. A wild ride from beginning to end." Greg Wardson, Pianist/Educator
"Multidimensional villain and thought-provoking philosophical musings. Well-done first novel." James Irelan, Guitarist/Poet